What we do
Plus Gravity is a branding design studio that helps passionate entrepreneurs start and grow profitable businesses.
We believe that the faster you build a quality brand that supports you and your family, the faster you'll be able to focus your energy on making even bigger contributions to the world that will have a lasting impact.
Our vision is to create and sustain a network of highly effective & profitable brands, each one of which will be preferred, acknowledged and respected for their unique characteristics and all of them together will accelerate our evolution into a peaceful, healthy, happy and profoundly aware species.

How we do it
Our approach is based on our passion to contribute and improve ourselves and everything we can affect every single day. We wake up with the certainty that today is the day we'll create our masterpiece.
The way we do it is:
We find the overlap between high aesthetics and applied utility
We combine creative design with ethical entrepreneurship to create innovative brands that accelerate evolution, towards making the world a better place
We don't focus on what we have done in the past but we use it as leverage so we can constantly improve what we're doing now.
We respect everyone's time, ideas, energy and attention
We believe in humanity and we care about the personal growth of every single individual among our clients
We add as much value as possible at every opportunity
We only take up projects that have the potential to create value in an ethical way, that makes all of us care about each other on a deep level and elevate us as a species
We are grateful for all that is and all that will be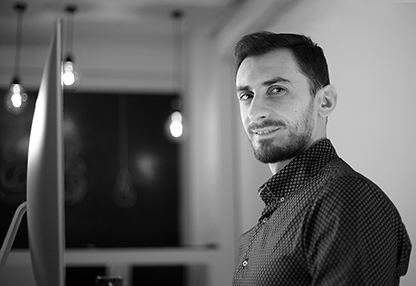 Meet Isaac
You can call me Isaac. I got my start in the Advertising field in 2006 as an Art Director at Y&R. Fascinated by art since my early childhood, I've been constantly experimenting with artistic projects in a multitude of forms and techniques. My love for Design and Visual Communication helped me get granted with the 1st National scholarship for my academic performance at Technological Educational Institute of Athens, Faculty of Graphic Arts & Design (Branding Orientation) by the Greek State Scholarships Foundation.
As soon as I graduated in 2006, my passion to get my hands on the fascinating world of Design led me to get my start in the Advertising field as an Art Director at Y&R, where I had the opportunity to design for a long list of highly prestigious world-class brands, including BP, Danone, Bel, Boehringer Ingelheim, Friesland Campina, LG, WIND, among many others.
What always excites me is finding the overlap between high aesthetics and applied utility, in a way that best highlights a brand's unique value proposition. I've devoted all years of my life as a designer perfecting my vector design skills and understanding the ways visual communication can affect, not only customers' decisions, but the dynamics of a whole market.
Together we can either create from scratch or go through your business strategy, and find the best way to bring your own unique value proposition to the surface of your brand's communication, in a way that differentiates it from the crowd and brings focus on your best possible contribution to the world. It's a trajectory that I highly suggest, either you consider using any design services or not. I believe that offering our best value upfront is the only way we can all evolve and reach our greatest potential as a species.
In the modern competitive business world we live in, it's challenging for a brand to stand out of its competitors. Together, after we analyze your business strategy, we can create a complete range of high-end custom designed visual communication assets, crafted to their finest detail, both for corporate branding and promotion, from concept to final deliverable design, following a nature-inspired, process-driven & results-oriented approach.
Feel free to share your ethical and humanity-serving vision with me, so I can personally suggest ways for you to incorporate high-quality visual communication into your action plan and get one step closer to achieving your goals.
Now you know how you can use the power of strategic branding, combined with high-end quality graphic design. A charismatic brand is any product, service or organization for which people know there is no substitute. Let's create one together and take your contribution to the world to the next level.
Design for my business!
Enough about me. Let's talk about your project!
Hold your spot for a briefing session & I'll personally
get back to you within the next 24 hours.
Thank you! I will be in contact with you soon!